Monday, November 30, 2009 at 10:50PM
In the past couple years, the fighting game community has been fortunate to revel in the genre's return to glory. Capcom was able to produce Street Fighter IV, Tatsunoku vs. Capcom and Super Street Fighter 2 HD Remix within two years time. If there needed to be evidence of the fighting game community's squeals of a breath of fresh air, the variety of fighting games released within the past two years would be a resounding "We hear, you!" The problem with this call and response is what is actually being delivered. The troubling genre that is fighting games struggled in the past ten years because it could not continue giving fans what they wanted while experimenting with new technology and fighting mechanics. This could not be more apparent than with SNK Playmore's King Of Fighters XII.
For review purposes, I will say from the onset, that I have played a great bulk of KOF XII on the PS3 well after the games release. If there is one thing I have learned from next, err, "current-gen" [or whatever the buzz word is now] gaming, it is that unless you are a complete half-witted moron; never purchase today's games on the first day. I decided to wait until all of the initial reviews rolled in on KOF XII as well as the subsequent 772 MB patch, which "fixed the online issues" that were brought up in copious reviews. The fact that games get patched for minor and major bugs has been tacitly accepted by the gaming audience, give or take your occasional malcontent. This will be explored later.
King Of Fighters XII seem to have had a decent showing at last year's E3. Knowing that all the characters' sprites would be redrawn was disconcerting to your average hardcore KOF fan. I would like to think the fact that a King Of Fighter game was being made [at all] was what kept a great deal of fans of the series optimistic. I am sorry to report, that if you are not a fan of the '95-97 Orochi series, you will find this offering pretty weak. By weak, I mean an 86-pound fashion model would have a better time lifting the controller than you will to tolerate a game that is lacking so many elements that made its series great.
Why is Terry Bogard missing his "Power Dunk"? Why are 'K and Mai Shiranui missing completely? Although, I am glad SNK Playmore passed on "Mrs. Boobalicious" for Raiden, but really? Raiden? There are only 22 characters to choose from in a series that has introduced almost a hundred fighters. Not only are you taking away Kim Kaphwan's follow-up overhead attack, but Iori's projectile is also missing. Why give people fewer characters, gimp some of the more popular ones to then play them in an Arcade Mode that is a glorified time trial? Did I forget to mention that? The Arcade Mode has no narrative, whatsoever, it is similar to the dream matches originally found in KOF '98. This would be a welcomed feature had there been some patented, terribly-difficult-end boss that SNK Playmore has been known to throw at you. No, you get five matches on the games 5 stages, six if you include the night version of the domed stage. What a missed opportunity.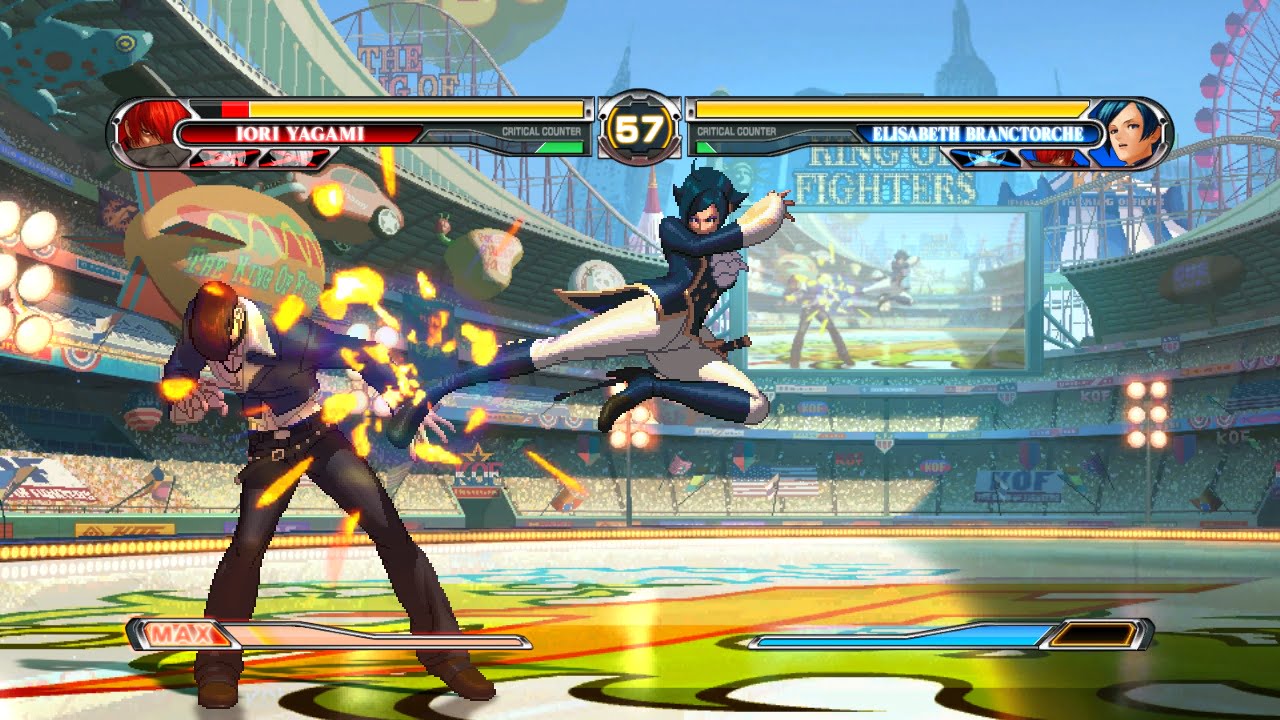 The PS3 has Elisabeth and Mature as exclusive characters. So, that's something. I'm sorry, I am grasping at straws here. King Of Fighters XII, at its best, is passable. The fighting systems like: Emergency Evasion, Guard Attack, Critical Counter and my personal favorite the Blow Back Attack, give the game more depth. Emergency Evasion, though susceptible to throws can be used to escape an incoming beat down. The Guard Attack works more like a Street Fighter III: Third Strike parry, but leaves no free combos open. The Blow Back Attack is my favorite simply because it is almost garishly aping Street Fighter IV's "Focus Attack", only this is KOF XII so they find a way to make it suck by giving you no ability to absorb hits.
The Critical Counter is the most useful. You have a 'counter gauge' that builds by receiving and dealing out damage, when it fills you have the opportunity to counter your opponent. Once your opponent is stunned, you can deal a custom combo. A skilled player can figure out a stylish finish which could deal a healthy amount of damage in the given 3-second stun.
I had high hopes for KOF XII. The backgrounds are beautiful, though Japan's views of the world are still something to raise an eyebrow to. The fight system is solid, when studied. There is even an option to choose a "Simple" mode so you can press left or right on the controller and any attack button and 'poof'; special move explosion.
I said I would cover this earlier. Releasing a game with gimped players and an awful PSN netcode, playing online almost seems like a chore than a joy. Who do you put the blame on? SNK Playmore for not designing a more thought out game or PSN for having a difficult infrastructure to begin with? There were a lot of fighting games that we released this year that cater to the fighting game community as well as new enthusiast, KOF XII is not one of them. There will be no fun going against one of the most 'mentally handicapped' AIs in fighting game history, so you must drag a friend down with you.
King Of Fighters XII hangs somewhere in the middle of being a stylish, but lacking substance; not only as a fighter, but as a complete game. I would suggest BlazBlue or Melty Blood Actress Again if you have a hankering for some well sculpted 2D fighting action.
I give King Of Fighters...
The "Missing Puzzle Piece" Award
tagged

KOF XII,

SNK Playmore
in

Criticism,

Gaming,

Reviews